Information
What is GT Drift? In Japan, Japanese "合体(Gat-Tai)",Gat-Tai meant that 1 car chasing closely to another car as side by side,"Gat-Tai"→"GT",so that's why we named it GT Drift.
Drifting with RC cars started in Japan around the year 2000. It was first started by putting PVC pipe over the tires, to make them slip on grip tracks. Around 2010, a new style was formed called "Ketsukaki Style" which came from changing the front and rear gear ratios (ketsukaki) to make them look like real cars, which then became mainstream. At about the same time, competition races of "Who can show off the best" started all over Japan.
Now in the drift scene, there are 2 different categories, for 4WD and 2WD, each enjoyed in its own style.
GT DRIFT is not meant to be a highly competitive event, but where the focus is on having fun, and promoting companionship. The style of the event will change over time adapting to the cultures of different countries.
The ultimate goal is to spread RC drifting worldwide, have enthusiasts worldwide come together for a "World Cup" and simply play with RC cars. We believe it is important to have events and gatherings around the globe to introduce new users to the RC world.
We send Japan's top drivers around the world to boost events, so if you are interested, please contact us.
GT DRIFT PV
This is the GT DRIFT promotional video.
GT DRIFT -RC DRIFT CHAMPIONSHIP-
Japan Round.2
Group photo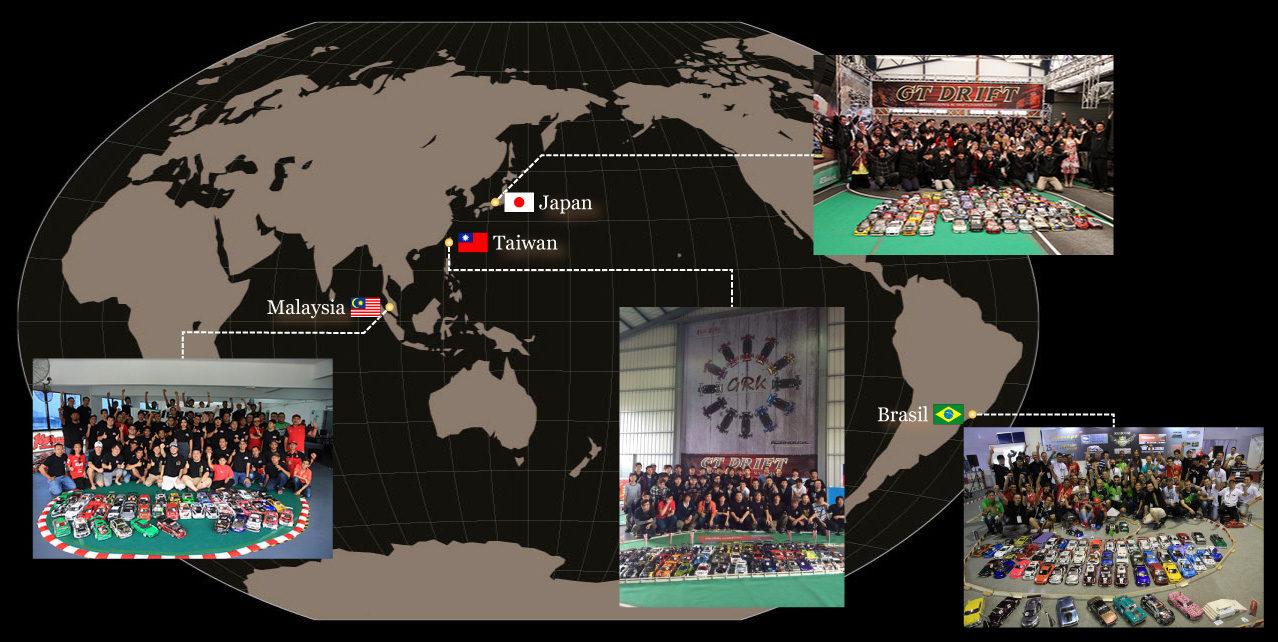 These are the countries that GT DRIFT has been held at. We do exciting events with the local RC members!
There are over 100 countries in the world now that do RC drifting! Which country shall we go to next?
Schedule
| Date | Competition List | Country | Venue |
| --- | --- | --- | --- |